Standing desks have been an obsession of mine for several years. I've hacked together a number of prototypes and setups from simple coffee tables on top of normal desks to boosting up desks on top of breeze blocks. I've loved standing but I've always found myself changing back to a standard desk because I get tired standing up all the time.
The answer always seemed obvious – a sit-stand desk. There was always one problem. While there are a number available on the market they're all more expensive than my small budget can handle. The cheapest start at £500 and they go to extreme levels and costs.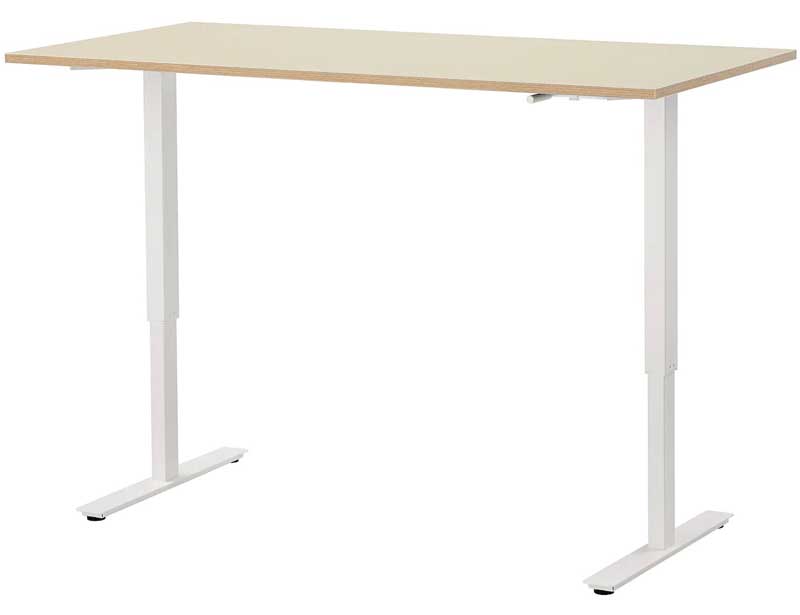 I've been a long time Ikea user and I was excited to see that they would be launching their first sit stand desk at the end of 2015 – the Skarsta. There were reports that they were low on stock but I was able to find one at my local store and braved the Christmas crowds to get one.
So – the stats. The desk is a manual wound sit stand desk with a white top that can adjust between 70 and 120 cm. It's got a maximum weight of 50kg and there are two sizes 70x120cm and 80x160cm. The smaller costs £175 and the larger £195. I went for the larger of the two sizes and came home with two large heavy boxes.  The first box contained the desk-top and the second smaller but very heavy box a series of metal pipes and box sections that bolt together to create the legs and structure. These bolt together sections are hollow and inside them is a crank and cog system that leads to an external handle. This handle (which can be put on either side depending on how you assemble it ) usually clips just under the desktop but when you pull it out crank clockwise to go up and anticlockwise to go down.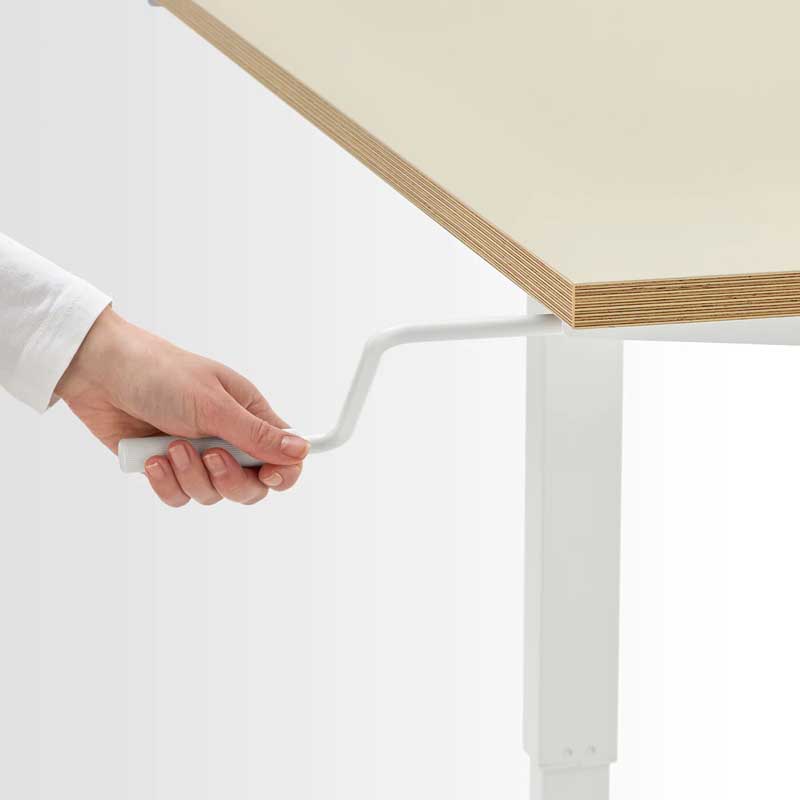 I was able to assemble the desk in about an hour and a half. I did the vast majority of it single handed with no problems. I only needed help to flipping the legs onto the top (which was on the floor) and then turning the whole thing over. If I'd had more space it would have been doable without any help. I was a little concerned at how hardy the mechanism to move the desk would be but was pleasantly surprised to find out that the parts were standard hexagonal rods. Not something that you'd have lying around but available if you look.
Once setup and levelled out I loaded up the desk and off I went. The crank is easy to turn and takes about two minutes of turning to go up or down. It does not seem more difficult if the desk is fully loaded or empty although I did find that if you load the desk up fully and lean on it that once started moving it will keep going slowly down on its own. It's surprisingly stable and while it rocks very slightly at maximum height is not excessive. The desk is specced to 50kg so would handle most setups although I'd be skeptical about putting a tower on it – from a balance point of view if nothing else.
Product Information
Price: £175 or £195
Included in the box: Desk, legs and top. Can be purchased without the top.
Retailer: Ikea
About Ikea
Ikea is the worlds largest furniture retailer and was formed in Sweden in 1943. The company expanded rapidly and now has 373 stores in 47 countries. They have a great environmental and social record. For example they are getting close to using 100% renewable energy and should have all of the wood they use from sustainable sources by 2020.
The Ergohacks Evaluation
Versatile
The Skarsta will fit in to a certain persons setup. They need to have space for a desk of a particular size and not have too much weight – monitor arms or a desktop – that has to be on it. Once this is fulfilled it's a versatile system. It's ability to raise is not that obvious and it could be used as a seated desk without ever knowing that it can be raised. In this sense if you wanted a desk of a particular fixed height it would work.
Ergonomic Design
The height changes that the Skarsta is capable of will suit people up to about 6 foot 4. Any taller than that and it might not be as simple to get a perfect ergonomic position.
The Ikea website recommends getting a set of corner protectors and a cable management system with the desk and if you're going have the desk around kids I'd agree with the corner protectors. With a five year old we had a couple of close calls with the side of her head being at about the right height to run into the desk corner.
The desk top is made of a waterproof acrylic plastic that feels smooth to the touch although there is an tiny lip around the edges which some will find annoying.
Winding the desk up or down is simple and takes very little strength. The hardest thing is clipping the handle back into the desk afterwards – that actually takes a reasonable amount of force but has the benefit that the handle is not likely to come out accidentally.
Environment & People
Ikea have a good environmental reputation and are like any huge company have an array of information and policies. The Skarsta is made from a particle board top and a steel base – both of which are easily recyclable. Unfortunately Ikea do not provide the source for the wood.
The desk uses standard parts and if the lifting mechanism was to break would be stable and strong as a normal seated desk.
Cost-Effective
I said at the beginning of the review that the desk was the cheapest sit stand desk I'd seen. After considerable extra research the lowest cost I've been able to find in the UK for a manual (or electric) sit stand desk is £460. There are on desk solutions that start at around £360 but even assuming that you have an standard desk to put in on that's nearly double the cost for a much smaller surface area.
I've been using the desk for a month and I'm confident in it for the medium term – it's solidly designed and as long as I keep the screws tight I've not doubt it will last me several years at least.
Specification
Minimum Height: 70cm
Maximum Height: 120cm
Max load: 50kg
Color: White.
Tabletop material: Particleboard, Paper, Fibreboard, Acrylic paint, Acrylic paint, ABS plastic
Handle Material: ABS Plastic
Legs: Steel, Epoxy/polyester powder coating
Requirements
The obvious problem with a desk that moves is that your cables – particularly power cables – need to move with it. If you're the hipster ideal of a single MacBook Air this won't be much of an issue. While I use a laptop I have external mouse, keyboard, screen, scanner, HOTAS stick and a number of external drives and extras. Cable management requires thought.
Verdict
If you think you want a standing desk go find yourself a box or two to get your computer to the right height.  Try working for an hour or two.  Getting tired? Take the box away and move back down. When you're ready go back up. That's the essence of a sit stand desk. Stand when you feel creative, energetic or want to get the blood flowing and sit when you're tired or need to handwrite.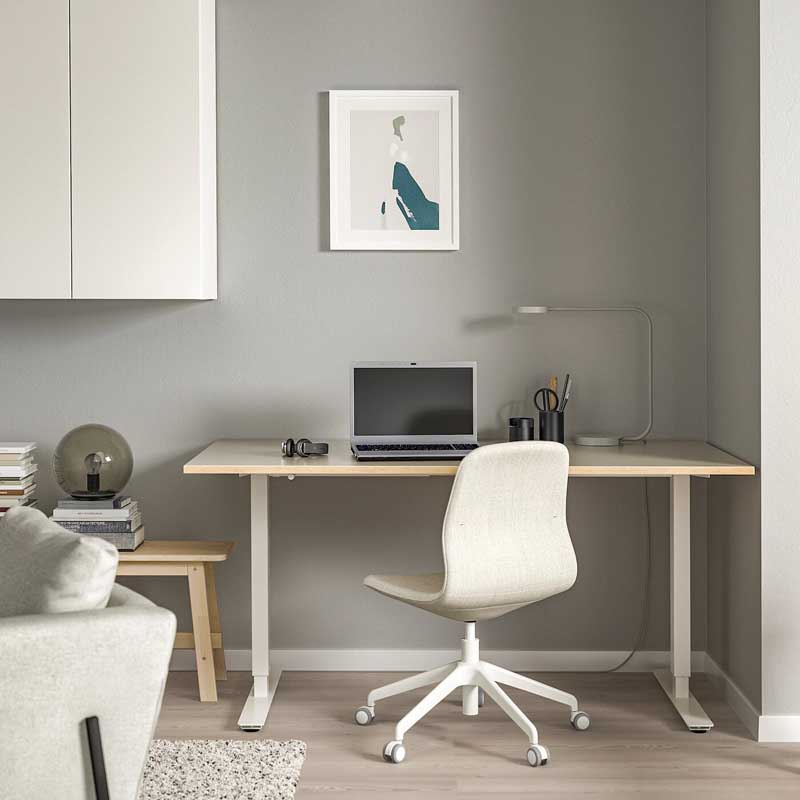 The Skarsta is everything that's good about the Ikea way of doing things. Simply and solidly designed and looking, ergonomic and economic.
It brings sit stand desks within the price range of a much wider market. The Skarsta may not be a desk for life but it's certainly one that will last for years. Highly recommended.
The review is based on the Ikea Skarsta 160×80 sit/stand desk. First published on the 11th January 2016 and updated on the 24th March 2016